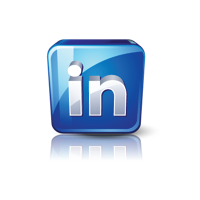 How many of you belong to a group on LinkedIn like Linked Orange County? Our members come from all over, but 4,800+ happen to be on LinkedIn. They also join from Facebook, Twitter, Youtube and in-person meet-ups. But LinkedIn Groups can be really powerful if you use them correctly. Compared to Facebook's 600 million users, LinkedIn is still relatively small but it's effective-and you won't have to see pictures of people in their underwear…
Here are a few tips:
Assuming you have a personal profile on LinkedIn (<-I'll use mine as an example) and it's filled out 100% (that's key to getting found and for optimal search results), use the search window at the top of the page on the right side to search for Groups. Example: you can type in something specific like, "Linked Orange County" or use keywords like, "Sports" "Automotive" or whatever interests you.

Hopefully you'll see the group you want in the search results, now click the button under that group where it says, "Join Group." If the group is set to automatically accept members, you're in! But some, like Linked Orange County screen members and it might take a day or two to get approved (or not) based on relevancy or whatever criteria the Group manager sets.
Once you're accepted in the group you'll be able to click on the Group tab in the top nav bar and click into the group itself. Click on "Members" because this is where the good stuff happens. In the search window below put in anything you like: names of people, (Bryan), keywords (lawyer), titles (VP of marketing) etc. You'll get a list of members in Linked Orange County only who fit that search criteria. Why is that so valuable? Well, are you looking for more clients? Are you looking for resources? Are you looking for a new job? You can make your own personal list of must-meet for biz…for whatever your goal. Read on…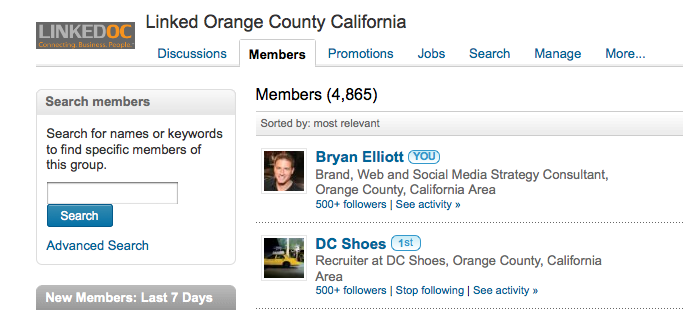 Having the same group in common has many advantages. The biggest advantage is that you don't have to pay to play or exhaust any of those rare In-Mail invites that LinkedIn makes you pay for if you run out. Last time I checked, the paid version of LinkedIn starts at around $50 per month for the lowest package.  You either have to have In-Mails to request to connect or know the person's email. BUT when you're in the same group as the person you want to connect with, you can send FREE messages as much as you like. Get it? Not to mention you can utilize the Discussion Boards (try to avoid shameless self-promotion, it looks bad on you), Job Board, and other cool features. Did I mention these are still FREE?
But what if the person you want to reach isn't in Linked Orange County? Simple. Go back to the top nav and change the pull-down menu that says "Groups" to "People." Search for the person by name or use the Advanced Search to find companies, titles etc. Click on the profile of the person you're stalking-ahem-I mean, researching-and scroll down a bit to see if they belong to any groups. Here's what you'd see on my profile. You can see that I belong to several groups-48 to be exact (LinkedIn limits you to 50). Pick one of these groups and join it! Then you will be able to reach out to that person for free. Or better yet, instead of a cold-call style email, start posting relevant and valuable content to the Discussion Board in that group. Get on that person's radar by commenting on her blog or post. Is she on Twitter? Follow and connect with her there if she's active. You get the point. I love LinkedIn as a lead gen tool and B2B connection platform.  Did I leave anything out? Tweet me, leave a comment below or connect with me on LinkedIn and let me know what you think. Good luck!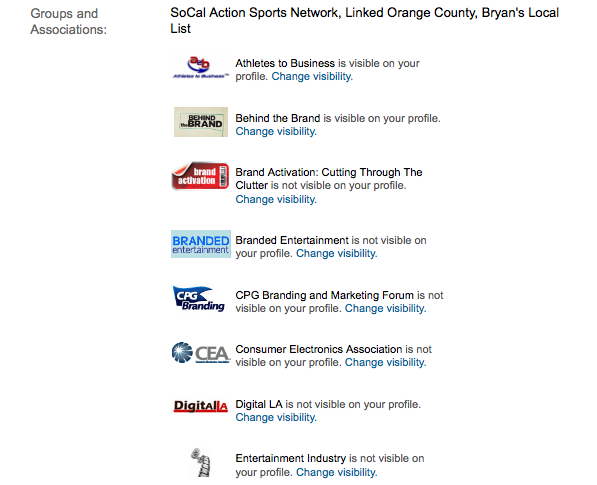 { 2 comments }