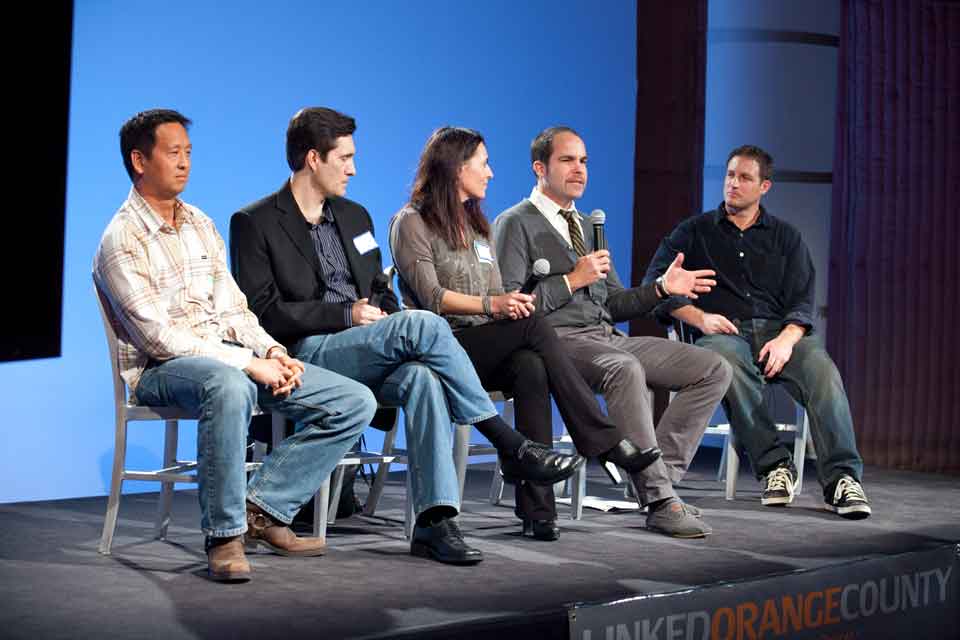 Our last big networking event of the year with an amazing panel [pictured from left to right: Gene Pao, VP Mktg at Fuel TV, Brentt Eads, Sr. Dir. of Mktg at ESPN, Amy Cosper, Editor-in-Chief at Entrepreneur Magazine,  and Sean Scott, Chief Shoe Maker at TOMS Shoes and yours truly as moderator...] and author Scott Stratten was a super success! Leave a comment below and let me know if you'd like to watch video of what our panelists had to say about the secrets to their success or Scott's highly informative and entertaining presentation…
If you missed it, here's a brief recap…
"People Spread Awesome…"
Special thanks to our member photographers Bob Steshetz  and Brian Carter for shooting stills that night; they both really captured the energy of the event. (Extra nod to Brian for covering his 3rd event with us-some of you might remember Brian from the memorable pics he snapped at the Oakley event with me and Chris Brogan on a full-size military tank…)

What a great venue and vibe! Even before guests walked thru the stage doors they received a free case for their smartphone or accessory from our sponsors at Incipio! Our venue hosts were member friends JSP Creative (they produced the entire show-more video below) and Gothic Moon Studios, a 6,500 square foot working studio warehouse and prop house in the middle of Orange near the Orange Circle (BTW, same place we shot the Toyota TV spot).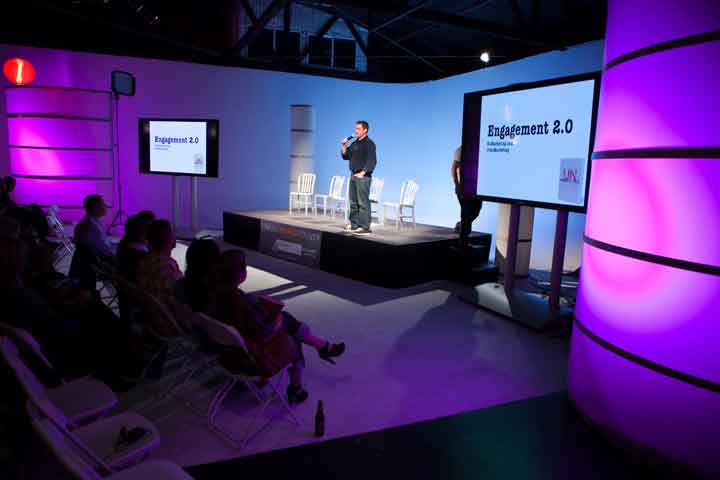 The place was all dressed up for us and it really felt special. It was great to see a lot of our people stepping up as sponsors to get involved and showcase what they do best. For example, check out the (2) giant 101″ monitors in the pic here brought in by our friends at Muse Presentation Technologies and the glowing pillars and awesome lighting from Ryan and Ralph Linhardt at Theophany Films (Ralph was also the DP on the Toyota shoot produced by JSP Creative…). These guys are pros.

"Establish Yourself as an Expert…"
The food and dessert was delicious. Our friends at Chomp Chomp Nation served a combination of their Singapore dishes and we had a custom-built dessert by our friends at BoardWalk Ice Cream Co.
Special nod to Josh Bruni and his crew at BoardWalk Ice Cream, they have supported almost all of our events this year! I highly recommend hiring them for your next corporate event or just stop by their shop in the Irvine Spectrum across from the movie theater for a special treat.
"If you believe business is built on relationships then you better make building them your business."
And now for some video… Check out more of JSP's handy work in these nifty interviews they shot and edited for me with Scott Stratten, aka UnMarketing. This blooper reel is my favorite. Leave a comment below. If you attended the event I'd love to hear your about your experience. If you couldn't attend, watch these short video vignettes and let me know what you think of Scott's thoughts on UnMarketing and his tips for small businesses being successful.
Did you enjoy this post? Make sure you become a member to receive free updates! Click here to sign up.